EU's "vampire treaty" with Mercosur
31 Jul 2019

The New Colonialism
Since 1492, Latin America has predominantly played the role of the provider of raw materials in the international division of labour — and that's right where the EU wants Argentina, Brazil, Paraguay, and Uruguay.
Gerhard Dilger
It's no coincidence that a supposedly historic "free trade" agreement is being announced between the European Union and Mercosur at this particular moment. Spearheaded by Angela Merkel, Europe's governments have mercilessly exploited the political weaknesses of Argentina and Brazil to press ahead with the re-colonization of South America.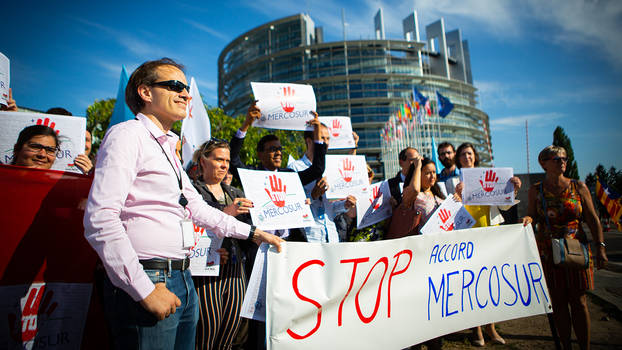 Should the deal—which until now has only been made public in broad strokes—actually make it through the ratification marathon in the European Parliament, it would primarily be a triumph for transnational corporations and their quest for profit, with human rights and environmental protection remaining mere rhetorical window dressing.
Since 1492, Latin America has predominantly played the role of the provider of raw materials in the international division of labour—and that's right where the EU wants Argentina, Brazil, Paraguay, and Uruguay. With this deal, the EU hopes to put these countries back in their place following their attempts at emancipation in the twentieth and twenty-first centuries—and to keep them there for as long as possible.
If there are any winners at all from the gradual reduction of tariff barriers in South America, they are confined to agribusiness and the import sector—smallholder farmers, indigenous people, and workers are all left to foot the bill through the continued destruction of their livelihoods and the erosion of their rights.
According to the European Commission's enthusiastic estimates, European companies are set to save four billion euro per year in tariff payments, increasing their competitiveness. Even the fact that the automotive sector in Argentina and Brazil is being liberalized more slowly than others is due to the interests of European companies, who want to first recoup their investments of recent years. The planned liberalization of trade among multinationals promotes wage pressure and job cutbacks. Under this model, in the future cheaply produced automotive parts will be transported halfway around the world instead of being produced locally.
In addition to promoting the expansion of global trade and its negative effects on the environment, European neoliberals are insisting on tightened patent protections that could threaten South America's supply of affordable generic medications. "New business opportunities" are also supposed to be created in the services sector, such as in telecommunications and IT.
When it comes to government procurement—something that is often used to support local producers—European competitors are to get an ever better look-in. And while investors want the opportunity to bring cases before an arbitration tribunal, when it comes to accountability for environmental offences or human rights abuses, sanctions will remain out of the question.
The far-right Brazilian leader Jair Bolsonaro and Argentina's entrepreneur president Mauricio Macri—who is currently fighting to secure re-election—are pulling out all the stops to court international recognition. The deal would have been impossible without the relationship between these two figures and the neoliberals on both sides of the Atlantic who drew it up and are now singing its praises.
But the implementation of the agreement is by no means a foregone conclusion. Why are the details of the EU-Mercosur Agreement (which in reality is little more than a rough draft) only being released in dribs and drabs? Attac activist Susan George has called the "free trade" deal a "vampire agreement", and she's not wrong. As soon as the details make it into the light of day, there is a real chance of putting a stop to them through democratic action.
Resistance comes from South American activists, textile manufacturers in Paraguay, trade unionists in Uruguay, and the Peronist candidate Alberto Fernández who has a good chance of beating Macri in the Argentinian presidential elections in October. In the eyes of these groups, the neo-colonial character of the planned agreement is as clear as day. But there is also heavy rumbling in France, where the risk that further imports of monoculturally grown agricultural products pose for local production has been recognized as a concern for some time now.
Just why the far-right climate change denier Bolsonaro, with his desire to decimate Brazil's rainforests in record time, is supposed to be a strategic partner for a democratic Europe remains a secret between Chancellor Merkel and Foreign Minister Heiko Maas. Non-government organizations and church-run social initiatives have already produced a plethora of arguments against the deal. Unfortunately, trade unions are yet to join this alliance. But the resistance movement is only just getting started.
Foto: GUE/NGL