Argentina
10 Jun 2021

Travas during the pandemic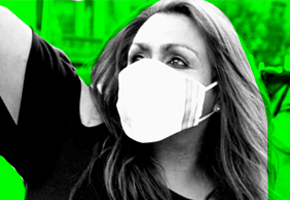 Dialogue between Claudia Korol and Alma Fernández
Claudia Korol is a feminist activist and member of "Pañuelos en Rebeldía". Alma Fernández is a feminist, and a "Trava" activist in informal settlements called "villas" in Argentina. Both are part of "Feministas de Abya Yala". "Trava" or also "travesti" refer to a gender identity with a strong political connotation.
How did you manage during the COVID pandemic? What did the pandemic mean for you and the Travas?
What did it mean to me? I never thought that a pandemic could happen to me.  It taught me how to save money. The pandemic taught us –as Travas– that we have to know how to save money. But I also think, how are you supposed to save money if you live day by day, being a prostitute. I speak from my own perspective, at 36 years old.
Being 36, the pandemic was a hard time to live as a prostitute, knowing that prostitution is a killing machine that classifies bodies, so those who are 36 do not work as much as those who are 18. So I think that above all, you have to develop the habit of saving money and taking care of yourself. It also taught me not only how to organize myself better but also how to organize with others. Because I was also tired of those six products that the State and the political parties provide, which are always the same: rice, sugar, yerba, lentils, pasta, beans.
Being a poor person myself, I ask myself, how can the new generations, the children living in a poor neighborhood, be growing up with that kind of food? What intellectual capacities can they develop?
At the same time, the pandemic affected me on a personal level, because I lost five people in my family due to COVID. So it taught me to be extremely careful, and I realized that I was alone.
Do you think the pandemic affected trans people differently than women, and other LGTBIQ+ people?
The Trava community was affected by the fact that they couldn't afford a house, and the same happened to those women who live in rented houses. The pandemic was very hard and cruel, and many of them couldn't pay the rent and they were evicted. Others had to move from neighborhoods to settlements or "villas".
7 out of 10 heterosexual people in this city couldn´t pay the rent, and this number rose to 10 out of 10 in the case of trans people. This really shocks me. It means that today, as always, the bodies of trans people inhabit different territories but are always utterly alone.
What made it possible for you to find a place in the villa? What response was there from the villa's population?
For example, it is already known that the Villa 31 is a "Trava friendly neighborhood". I think that what facilitated our arrival had to do precisely with the fact that you pay less, and that there are many people who see you are alone and are willing to rent a place out for you, because Travas don't have children. That is why it is convenient for those who rent places out. And there is also a network of many women who support and love the girls very much.
It is a cozy neighborhood, and we all have a friend who already lives in the neighborhood, so it makes it easy for us to get there, and there´s always a room available. At a time when the world stopped, women, lesbians, single women in general could not hold on to the place where they lived, and they found a home in the villa. Now you see everyone living, facing each other in the same space.
What organizational changes occurred with Travas?
Changes did take place. For example, we created Diana and Lohana's little house in the villa. Comrades from the trans villera diversity, they also came to bring us together, to create that network, to be able to help each other. I think that the largest organization was perhaps the Latin American one, it was that otherness. Like when the Spanish invaded this continent. The example of indigenous communities, such as the Incas, who did not keep gold, but food. We all got together, not to engage in political discussions, but rather to prepare meals for everyone, to eat together. That is also a form of organization. It was the most beautiful thing that happened to me in that sense, seeing everyone come together and understand that organization is necessary, in order for everyone to have a plate of food on their table. That was good. And also, some believe that our collective is individualistic. But this time, it was not the case in the villa. Also in La Matanza, the community got together and decided to go to the Municipality and demand food in the same way that cis and heterosexual people demand it.
How do love, friendship and affection come together in this context?
In this context, love was equal to you having a spare potato and giving it to the person  next door. Oftentimes this went beyond trans, or LGTB people. Because we, as Travas, also have a gift, or a heart, beyond all the oppression we go through. Understanding that we were in a situation in which we were all having a hard time, where we all needed to survive, we realized that this survival had to be collective.
What are the changes for travas who make a living from prostitution?
When compulsory lockdowns were lifted a bit, the Travas began to put together their own protocols, and suddenly you saw the Travas in the red zones, full of plastic bags, standing in panties and bras, learning to wear and apply the use of masks, to handle hand sanitizer, understanding the position from which they could provide the sex work, and at the same time struggling with the fact that they had to prostitute themselves in this context. It seems to me that this also helped us understand that it was time to look for something else, to move forward, to create other ways to make a living. 
Were there difficulties with the police?
Yes, there were. In the red zones, in the first days, when the Travas began to appear in the Palermo parks, the police told them to go away, that they could not be there. In many places there was a great deal of ignorance and those who wanted to take advantage of the situation. They thought the Travas did not know that they could not leave, and many policemen wanted to get bribes and take advantage. The pandemic was a good excuse for the police forces to remove the Travas from many corners, or to scare them away, or to limit the sex work offered by them. At certain times they could go out, at other times they could not. It was a bit sad, but now, after some time, and after Maradona died, it's gotten better. Before, the red zones were empty, and there were no customers. Customers did not go to the red zones because they were afraid. 
You said that you were thinking about alternatives to prostitution. Did you think about what prostitution means at times like this?
Yes, I think about it all the time, what this pandemic context implies, how it affects prostitution. And I can't help but think that social isolation is a class privilege, when we talk about Travas, if prostitution is still the only option for most Travas. We have a decree issued by the president establishing a trans quota, which speaks of suitability. Who defines suitability? Suitability is heterosexual. The State cannot repair so many years of mistreatment and exclusion, saying that all people must be suitable to hold public office. What opportunities were given to Travas and trans people from this country for them to be suitable? It seems to me that the pandemic, social isolation, is a class privilege, and it also seems to me that the Travas, seeing so many impediments, so many requirements, so many things, end up seeing prostitution as an option again.
How did the pandemic express itself for you and for the travesti community on health issues?
I believe that before the pandemic, the trans community didn't reach out to hospitals, and with a pandemic even less so. Travas are still afraid to get a checkup. Because health and the economy go hand in hand. What do you do if you take the test and have to isolate yourself for 14 days? How do you manage financially? Hospitals, health centers, are places that we avoid. But this is no exception. It happened to us several times that when a fellow Trava from the villa died, she went to the hospital when it was already too late. They did not want to go to the hospital before, because they felt they were not going to receive her, and they ended up dying in the hospital because it was already too late.
 The police tend to criminalize the Trava collective, accusing them of drug trafficking and drug dealing. Repressive forces stigmatize the Trava collective. How did this manifest during the pandemic?
Within the context of the pandemic, police repression intensified. And so did the false allegations against our collective. With or without a pandemic, Travas continued to be imprisoned for drug dealing. Prosecutors and judges would seize your phone, and look into the last 75 hours of communication. All of this was happening even before the pandemic. Everything stopped, but that continued. Travas continued to go out to prostitute themselves in order to put a roof over their heads. I am not justifying or apologizing for that, but trying to describe what these structural problems are like.
 You created La Casa de Diana y Lohana in the villa. What is the project for this house?
Diana and Lohana's house is a space that provides support, community help, and assists people suffering from addictions. The original idea was to reach the neighborhood and provide food assistance, but now we are also offering workshops, courses, so that the Trava, trans, lesbian, and female beneficiaries can find a space to organize themselves in the villa, to achieve things. We are about to get a house, and we are going to start thinking about ourselves as part of the neighborhood. We also seek to integrate the travas into the social and community life of the villa, because Travas have yet to be included in the political decisions of the neighborhood.
It is good to have this opportunity and to occupy these spaces. I'm very happy with that. We originally wanted to offer a service to the community, and we ended up becoming a family; we met a lot of people who felt lonely, and were resisting alone. It was very positive. Helping put this project together was actually the best thing that happened to me.
2020 was also the year in which many representatives of the Trava and trans community occupied government positions. Does this have an impact in your life?
I am glad that many Travas and trans have entered different spaces of power in the government, but for the Frente de Todos (government coalition), Travas are still in the periphery. We did not see people from our neighborhood occupying positions. We saw academics who are far from the community. When they tell you "it's with everyone", I don't think so. It is not with everyone. Not everyone is included.
What happened to your writing in times of pandemic?
Writing made me more sensitive, it made me happy, at times it challenged me, but it continued to shine and I never stopped liking it. I have many things stored in my heart, which I have to write about. I had a computer that caught fire, where I had many of my texts stored, and I am writing them again, because I remember them. But I have to organize myself, help organize, and at the same time find a place to be able to write and transcribe all those experiences that were part of surviving the pandemic.
What is your dream right now?
My dream at this time is that we can all be happy, bringing happiness to my community, my collective. And personally, I dream of having my house, exceeding the life expectancy, and making the missing voices heard. I want to give the voiceless a voice that everyone can hear.