Paraguay
10 Aug 2021

Community feminism in the city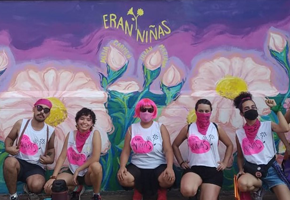 Interview with Casa Fem, feminist organisation from Asunción/Paraguay
by Juliana Diaz-Lozano
When and how was Casa Fem born?
Casa Fem was born in 2018 as a result of the outrage caused by a wave of patriarchal violence. At the time, the State failed to provide answers, and so we felt the need to create new safe spaces to discuss the reality of young women from diverse points of view; to generate activities that communicate women's struggles, their ways of organizing and resisting this violence. We believe that women have different needs and their own unique experiences.
We participate in Red Agroecológica and Red de Espacios Culturales del Casco Histórico de Asunción. We are interested in actively participating in the creation of critical feminist awareness, by building cultural and artistic spaces which contribute to the integrated development of young women, and taking into account their intellectual, political, social, artistic and cultural capacities. We try to generate digital media to debate, communicate, express and disseminate all aspects of the feminist culture.
What does Casa Fem do in Asunción?
Our house is available to artists and working people, mostly women, so they can share their creations and artistic pieces, such as theatre plays, concerts, performances, courses, workshops, and craftworks. In this sense, we build formative spaces where we can share our social research through open classes with a wide range of professionals.
Our political and artistic workshops are currently offered free of charge. These workshops are for young women only, and offer them a safe space to share their realities.
Which are the main challenges for the feminist movement in Paraguay?
We want to generate critical feminist awareness in our society, so we can find alternatives to inequalities and make structural changes in this patriarchal, colonial and capitalist society. These inequalities deeply affect our bodies and our territories.
Which are the characteristics of the feminism you represent as Casa Fem?
We believe in a feminism that goes beyond the academic realm; we think it's important to build a feminism related to daily life, in order to survive and have the ability to face this system. As Casa Fem, we engage in a form of communitarian feminism within the city, because we believe that territories –as well as bodies- are related to power. For us, the only way to survive is creating a common life with other women.
Which are the main challenges, difficulties, and types of violence you face as feminists?
The criminalization of social and feminist struggles. We are facing a "narco" government, so one of the most important challenges is getting rid of the fear they've installed for individuals and also collectively. Another challenge is to forge bonds and alliances with feminist and non-feminist organizations with similar perspectives.
Can you tell us what the "Eran niñas (They Were Girls)" Campaign consists of?
This campaign began after the murder of two girls by military forces. The Paraguayan government refers to this episode by successfully concealing the fact that the victims were children.
We work in collaboration with "Feministas del Abya Yala" and other groups from Paraguay to claim for justice.  We performed many actions such as "Juicio ético a la justicia patriarcal" (engl. Ethical judgment of a patriarchal justice), a trial in which the State was found guilty of infanticide and terrorism.